Current Projects
MP's 1966 Airstream Overlander "Lupe"
Re-skin of '69 Airstream 30' Land Yacht
"The Cut" is a 1991 Airstream Classic. She has been fully gutted and will be a mobile salon in Denver, Colorado.
more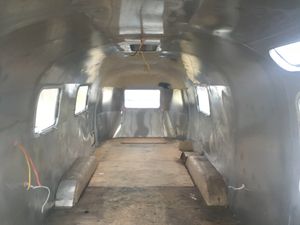 A now closed restoration company tried to re-skin our friend and client Curtis's Airstream. They didn't insulate. None of the new aluminum met the ribs. It was a complete disaster! We were able to go in and re-use the majority of the aluminum our client had already purchased and re-skin the...
more